Read : 1670 | Print : 93 | Sent : 0 | Rate : 0
13/12/2012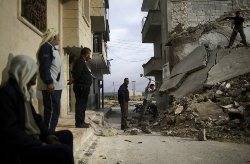 Forces loyal to Bashar al-Assad, the Syrian president, have used Scud missiles against opposition fighters, a US official said.

The official, speaking to the AFP news agency on condition of anonymity on Wednesday, said the incendiary bombs and scud missiles are a serious escalation of the 21-month-long conflict.
"Scuds landed within Syria," the official told the AFP news agency.
Human Rights Watch says the weapons, containing highly flammable materials designed to inflict severe burns, were dropped in populated areas.
The New York-based group based its findings on interviews with witnesses and analysis of videos uploaded by activists online.
'Desperate act'
Jay Carney, the White House spokesperson, said if the reports are true, it would be "the desperate act from a regime that has shown utter disregard for innocent life, utter disregard for the lives of its own citizens".
Carney called the missile launches within Syria's own borders "a stunning, disproportionate military escalation".
Victoria Nuland, spokesperson for the US department of state, said "we're seeing missiles employed now" but did not elaborate on what type of missile.
But the US official speaking later said he could confirm a New York Times story that the government was unleashing Scuds.
Nuland said Syria is also using another kind of "egregious weapon".
"It's kind of a barrel bomb, which is an incendiary bomb that contains flammable materials," she told journalists.
The Times , quoting anonymous US administration officials, said the Assad regime had fired around six Scud missiles from the Damascus area against opposition forces in northern Syria in recent days.
Mark Perry, a military and foreign affairs analyst speaking to Al Jazeera from Washington, said the reports are "credible", but the use of the unmanned missiles is a "very desperate measure" by Assad's forces.
The use of the missiles may be a sign that the Assad forces "are up against a wall" and running out of pilots or helicopters with which to fire back at the armed opposition, said Perry.
An AFP journalist in northwestern Idlib province said he had heard powerful explosions for the past three days coming from the direction of the Sheikh Suleiman army base captured by opposition groups at the beginning of the week.
PHOTO CAPTION
Syrian men use sledgehammers to break the concrete of a residential building destroyed in a government airstrike, while searching for belongings under the rubble near Idlib, Syria, Wednesday, Dec. 12, 2012.
Al-Jazeera