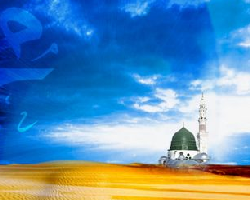 The Prophetís good manners and companionship
Saturday 27/03/2010
All reasonable people unanimously consider good manners, companionship and leniency as commendable qualities and acknowledge the merit of acquiring them. Many evidences from the Quran and Sunnah praise good manners and urges adherence to them. It was narrated on the authority of 'Abdullaah ibn 'Amr ibn Al-'Aas, may Allah be pleased with him, that the Prophet

said: "The most beloved to me amongst you is the one with the best manners".[Al-Bukhari]
The Messenger of Allah

was the best of all people in manners, behavior and companionship. Allah, The Almighty Says (what means):

{And indeed, you are of a great moral character.}

[Quran 68:4]. The personality of the Prophet

encompassed every good characteristic and manner, as his

Companions, may Allah be pleased with them, described in several Hadeeths. `Ali ibn Abu Taalib, may Allah be pleased with him, said: "The Messenger of Allah

had the most endurance, most gentle nature, best companionship and was the most truthful person." [At-Tirmithi]
Allah The Almighty described him

as being lenient with his

Companions, Saying (what means):

{So by mercy from Allah, [O Muhammad], you were lenient with them.}

[Quran 3:159]. In addition, the Prophet

followed the noblest manners in dealing with his

Companions, accepting their invitations and gifts and rewarding them for these.
The Prophet

also used to be amiable, and gentle in dealing with his

Companions, and he

used to visit them and ask about their affairs. He

was also very thoughtful because he used to pay attention to all those in his company, to the extent that each one of them believed that he was the closest to him. He

never criticized any of his companions directly, rather he

used to allude. Anas, may Allah be pleased with him, said: "I served the Prophet

for ten years, and he never said to me Uff (an expression of discontent). He, sallallaahu 'alayhi wa salalm, never said:`why did you do that?' regarding something I had done, nor did he ever say: `why did you not do such and such' regarding something I had not done." [At-Tirmithi and Abu Daawood]
In addition, 'Abdullaah ibn Jareer Al-Bajali, may Allah be pleased with him, mentioned the way the Prophet

used to treat him saying: "The Prophet

never prevented me from entering upon him ever since I embraced Islam, and whenever he saw me he would smile to me. I also complained to him that I could not sit firmly on horseback, so he hit with his hand on my chest and said: 'O Allah! Make him firm and make him a guiding and rightly-guided man.'" [Ibn Maajah]
This was only a very brief examination of the good manners and companionship of the Prophet

since this topic cannot be covered in an article or even a book.